Everything You Need to Know to Demolish and Build in Perth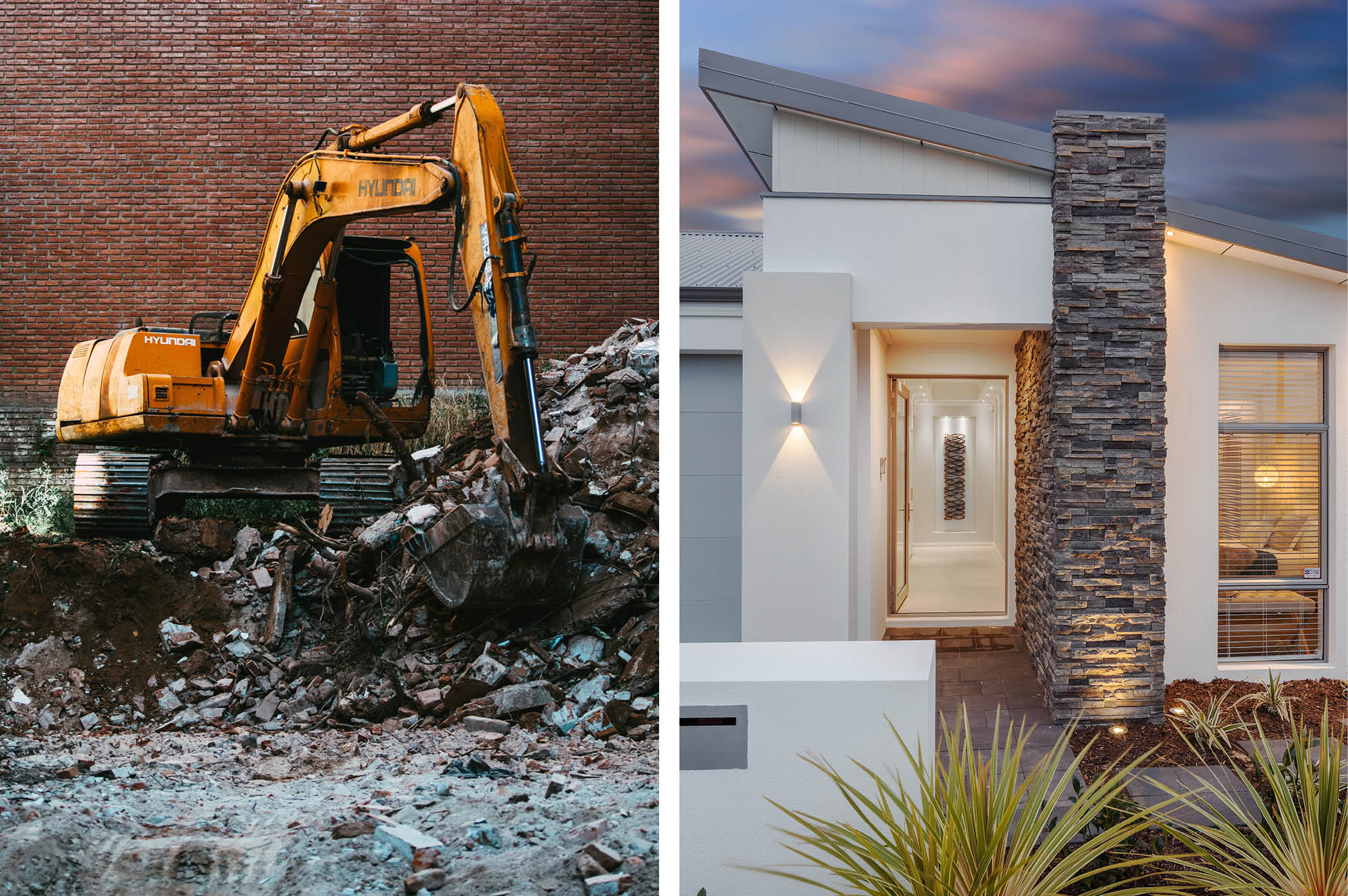 When your family has outgrown your old home, moving houses is not always the only option. With Shelford Quality Homes on your side, choosing to demolish and build your family home will be easier, without the stress and extra costs of stamp duty, real estate fees, or moving fees.
Reasons to choose demolish and build
You love your location but not your current home?
If you love where you currently live, in your street and your neighbourhood, but have always wanted a brand-new home, then designing and building what you want in the location you love is a perfect choice. You don't have to compromise. Build your dream home exactly where you are, with everything you have always wanted – modern and stylish fixtures and finishes, new appliances, a gourmet kitchen, and spacious entertainment and alfresco area. Design your new home the way you want, and you can even include updated and energy-efficient options to save your overall household running costs in the long term.
Cost savings to demolish and build
More people nowadays choose to demolish and build because of the cost savings and money-making that comes with it. Imagine if you had a 700sqm block in an area where people are subdividing, and you have an opportunity to do the same. You can potentially subdivide your block into two. Keep one to build your dream home and sell off the other block! You can also keep the large block to yourself to build a spacious, brand-new home. The opportunities are endless.
Demolishing your home to build a brand-new one can be more cost-effective than relocating as it saves you from expenses like stamp duty, taxes, real estate agent fees and repair costs to sell your home, or moving fees.
Demolish and build versus renovating
If you are not up for subdividing, demolish and build is still the more cost-efficient option when compared to renovating. Renovating an already established home is usually harder to budget as there can be unexpected costs that can occur during the renovation. Often, it can cost more than building a brand-new home. When you work with us at Shelford Quality Homes, we can do this exercise with you to assess which option is the best for you.
Demolish and build costs to consider
House demolition cost in Perth
A standard straightforward demolition in Perth ranges between $15,000 and $25,000, depending on the size and scope of what needs to be demolished and items you want to salvage. Shelford Quality Homes and our demolition partners will work with you to take everything into account, including current structures on your property (plants, trees and roots, swimming pools, asbestos removal, sheds, septic tanks, soakwells, rainwater tanks, council crossover, and concrete driveways, among many others).
If you want to retain certain existing features, including items and materials from your home before demolition, just let us know beforehand what needs to stay, what you want to keep, and we can plan accordingly. Like any other requests and plans, having these discussions early on is always advisable to plan and coordinate everything and see what we can achieve.
The price of your dream home by Shelford Quality Homes
Our talented design team will work with you to custom-design a home that makes the most out of your current outlook and aspect. You can also choose among our flexible home designs combined with our Ultimate or Signature Inclusion, all backed by our Shelford Build with Confidence Guarantee.
Shelford Quality Homes' demolish and build service also includes:
● Helping you avoid unnecessary costs and delays by liaising with your local council about building boundaries, covenants, and zoning.
● Checking for easements for services like sewerage, drainage, and electricity and consider any existing features (like trees and pools) that might impact your building project.
● Helping you engage a demolition contractor and provide you with sound advice to ensure the demolition process integrates seamlessly into your new home construction schedule.
Rental costs for the duration of your project
We recommend you start looking at rental accommodation approximately two months before the commencement of your demolition, redirecting your mail to the temporary address, and letting your lovely neighbours know of your plans to reassure them that everything will be okay and will go smoothly with little to no disturbance to them.
One-stop, all-inclusive demolish and build package from Shelford Quality Homes
With over 30 years of expertise and experience in the construction industry, the Shelford Group is your reliable team when it comes to residential building excellence. Our demolish and build projects are backed by our rock-solid Shelford Lifetime Warranty, and our new home consultants are here to remove the hassle and turn your block of land into your new dream home!
Visit our website for more information on our demolish and build process or contact us for inquiries.