Smart Kitchen Storage Ideas Everyone Needs to Know About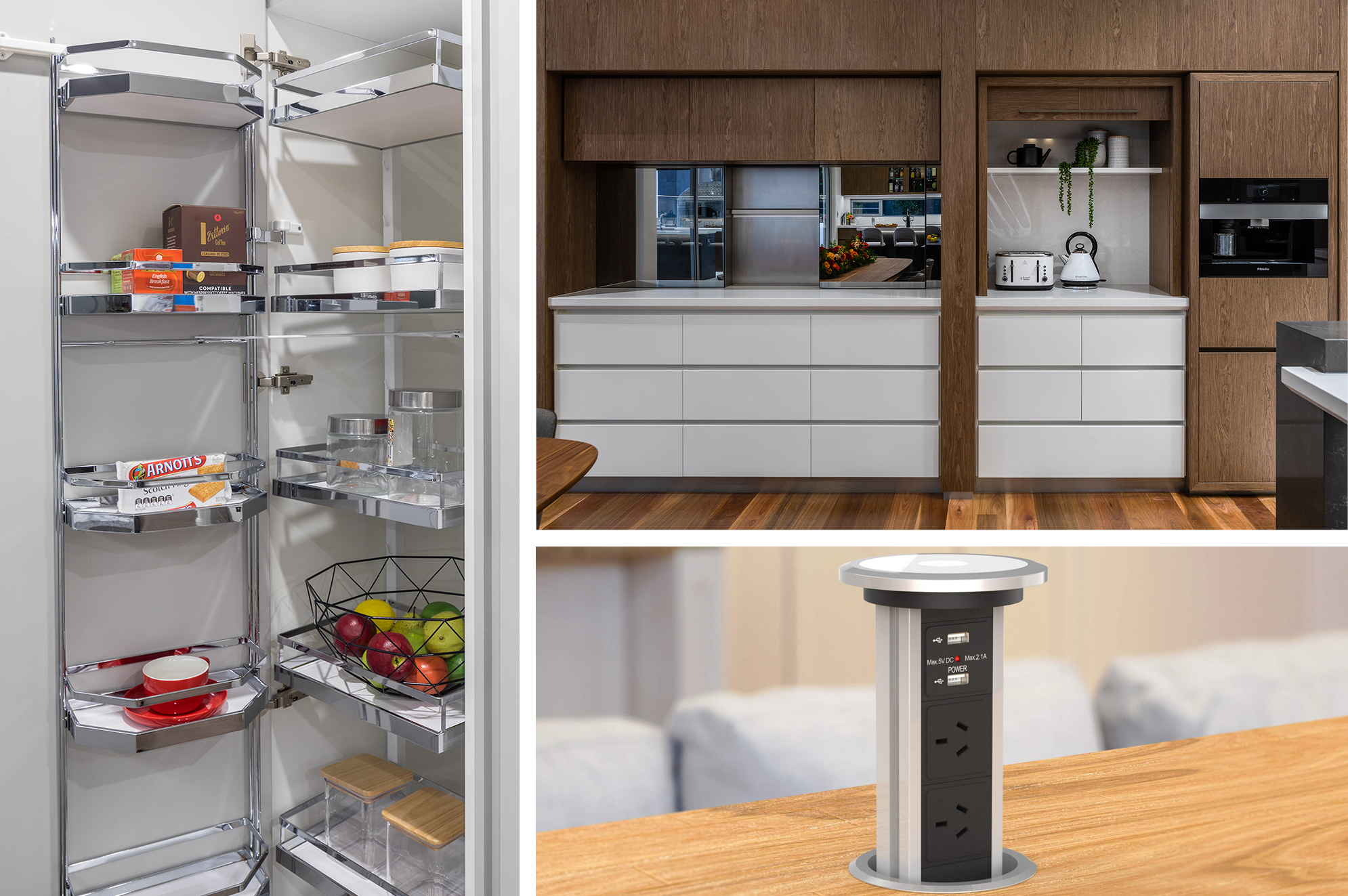 Make your kitchen more functional and efficient, and add a bit of personality to it by looking into smart kitchen storage ideas. We do spend a lot of time in the kitchen as it is the heart of the home. We cook, clean, eat, and even entertain guests and family in the kitchen, so it must be a place we enjoy being in. No matter the size or shape of your kitchen, it needs to work and look good at the same time.
Let's start with smart kitchen storage ideas. Kitchen storage has come a long way from overhead cabinets, containers, and labels. Of course, these are brilliant and failsafe solutions, but we have something more. Have you heard about pop-up power points, folding doors, a pull-out pantry, easy-access tray, bin drawer, and magic corner units? If not, well, then you're in for a treat.
These are only some of the latest innovations you can add to your kitchen design that we think will work best regardless of the size of the space. Not only are they trendy for their style, but they also help make the most of your kitchen space and function.
So let's talk about these smart design solutions that will add value to your space.
Pop-up power points or point pods
With all the appliances, you can never have enough electrical points in your kitchen. Sometimes, we struggle to find room for electrical points and want to make sure they are accessible enough for the appliances situated in different areas in the kitchen.
A solution we suggest is to have a pop-up power point in your kitchen island bench. Cleverly placing the pop-up power point within your kitchen benchtop means it is hidden and only needs a simple press at the top of the unit to rise. Not only is power point in a central location, but having it hidden also seamlessly blends it into your kitchen benchtop for a neater style. This way, you can access multiple power sockets and USB ports without taking up bench or wall space.
Folding doors
Folding doors serve a dual purpose. They are a great kitchen storage idea because they help save space and hide clutter. We have seen it in many European kitchen designs where the laundry is in the kitchen. Now we can make it work right here in Perth, with the doors sliding back into the wall. And compared to hinged doors, folding doors make it easier to move freely around the kitchen.
Pull-out pantry or pull-out compartments
We're all for space-saving and clever storage solutions that blend well into the wall for a less cluttered look. A pull-out storage solution comes in many sizes that allow easy access to equipment and pantry items. You can have dedicated pull-out spice racks with spaces for oil and sauces, a pull-out just for coffee and tea, an under-sink storage basket where you can hang a tea towel, or a space-saving pull-out pantry where items will not get lost right at the back of the shelf.
Easy-access tray
Say goodbye to having to use a step ladder to access or store items in high, hard-to-reach cabinets. The iMove lift-up tray is a great storage solution that enables everything to be within an arm's reach. You can lower the pull-down/push-up system tray to your height—you can see this in action in our Liveable Housing Project, where the client needed to reach things easily while on a wheelchair, and tools like a step ladder are inaccessible and hazardous options.
Bin drawers
In Perth, our home waste management system must always be organised to comply with regulations in place. For example, in many local councils, we now have a three-bin system. This means we need a bin for everyday waste, organic waste, and recyclable waste. And what better way to help you get organised and sort your rubbish waste than an integrated bin drawer? In our Signature Collection Range, we've included a Willow 30L Slide Top Tidy Bin Drawer—a great way to ensure your kitchen is always organised, clean, and tidy!
Magic corner units
It's a bit tricky to make corner storage solutions work, and that's why this solution is called a magic corner unit! Magic corner units are great solutions for hard-to-reach corner cabinets in your kitchen.
Sometimes, corner cabinets can be wonderful with the space available, but it can be challenging to see and reach the items at the back. The magic corner unit is a solution that works with the opening movement of the cabinet, bringing the front section of the unit out in front while the back section moves forward for easy access.
Have an enjoyable home-building journey with Shelford
One of the most exciting things about home building is personalising it, including your kitchen, to suit you! We are here to help make the whole experience enjoyable by bringing together some of these wonderful kitchen storage ideas for you.
For more inspiration and to see these ideas in action, visit our display homes! When you build with Shelford, we will also help you go through these innovations at our Selection Studio to discover what works best for your lifestyle and budget.
Stay up to date for more tips and home design ideas by subscribing to our newsletter!