Top Design Tips to Achieve Your Dream Farmhouse Design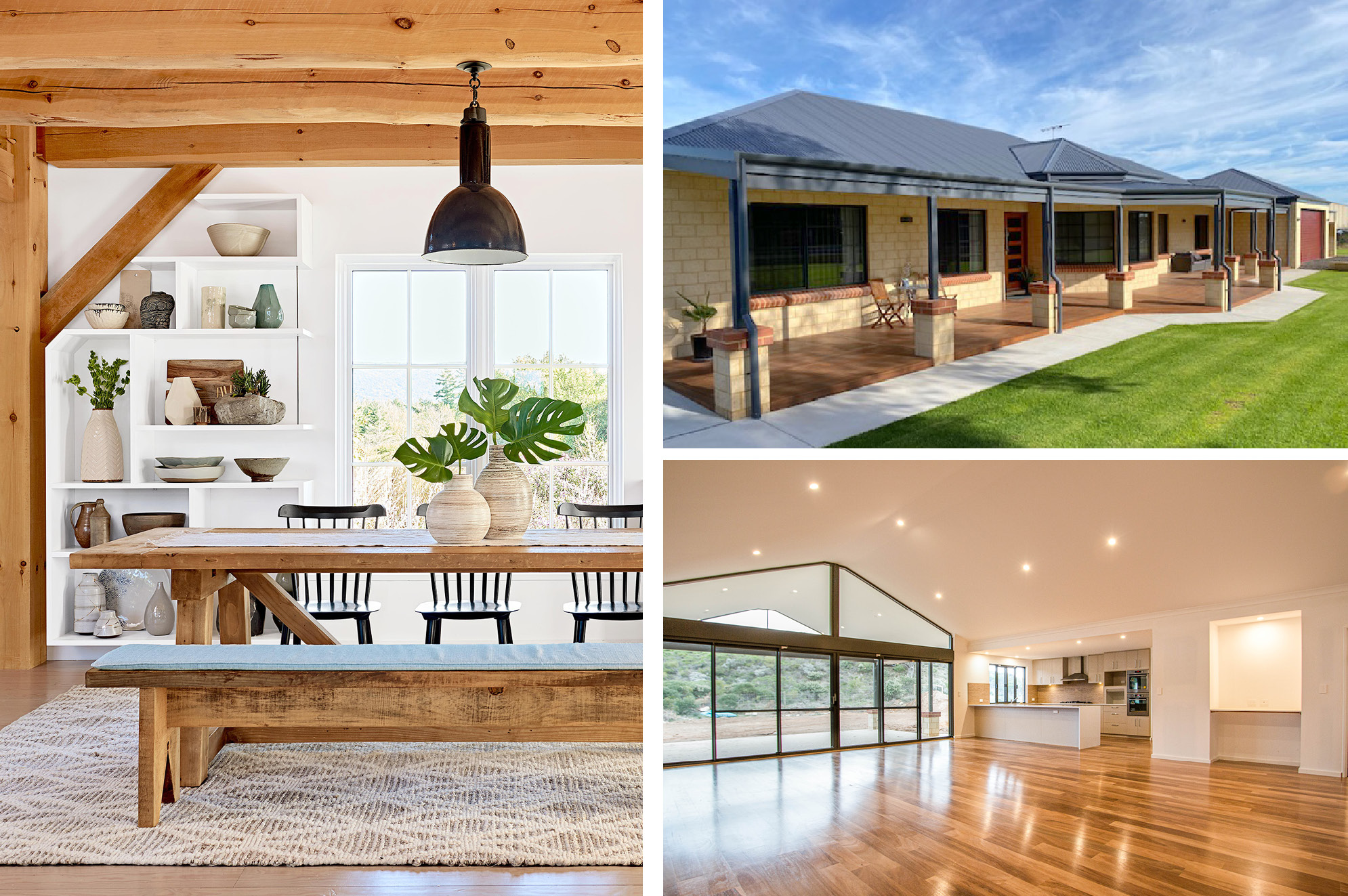 In Perth and the South West, the farmhouse design is a popular home design for many reasons. It has also evolved over the years, taking on a more modern, streamlined yet relaxing style full of character, but without it feeling like you are living in a barn.
There are many larger-than-average acreage lot sizes still available in Perth and the South West, and so people are looking for a modern farmhouse design that will suit their rural or semi-rural block. Each type of home design and size is not the same, and if you're building a farmhouse, it's important to work with a builder that is an expert in farmhouse design.
Looking for some farmhouse design inspiration? Our design team has provided their top farmhouse design tips to help you achieve that farmhouse design of your dreams.
Make the most of your space
A farmhouse design is known for its long, wide frontage. Make the most of the space available, and the possibilities are endless!
Typically, a farmhouse design has its longest side looking out across a rolling green valley, nestled amongst trees or high on the hills. Enjoy the spectacular scenery and fresh air by considering having a front porch with wicker chairs to complete the vibe.
Take in those views
Besides the laidback lifestyle, the beauty of a rural property in Perth is being surrounded by the natural West Australian landscape. Take advantage of the views that come with your dream rural retreat when designing your farmhouse as it's one of the best parts about country living.
Consider adding panoramic windows with vast expanses of glass to bring the natural light in and easy access to the beautiful landscape. Our favourite farmhouse designs have expansive windows strategically placed in the kitchen and living areas so everyone could appreciate and enjoy the outdoor serenity even while doing activities indoors.
Add personality with high ceilings
High ceilings, such as raking ceilings with extra high raking windows, are becoming a welcomed design addition in a farmhouse design. This works well when continued out to the alfresco.
High ceilings add extra volume to the home, making it look and feel more spacious and avoiding a cramped interior. Raking ceilings also add a sense of sophistication and drama to the living area. This brings balance to the farmhouse style, adding a touch of contemporary because not all farmhouses need to look like a barn.
An all-purpose alfresco
A great alfresco can be used for many purposes, both in summer and winter. It is a space that can be used all year round and captures the best of outdoor entertaining and BBQ parties. What's better than having a fine day out on the alfresco while basking in the beauty of the surroundings?
In a farmhouse design, we suggest making your alfresco feel as integrated and connected to the indoor living spaces as possible. You can implement this by adding large sliding, folding, or concertina glass doors, as well as a server window from the kitchen to the BBQ area.
Rustic bush poles
One of the most distinctive features of a classic rural retreat, nothing says farmhouse design than rustic bush poles. Remember, this will only work as a great design detail if it suits the overall feel and theme of your home. The perfect features that could work best with rustic bush poles include stonework on the walls, recycled brick and timber, raked ceilings, and floor-to-ceiling windows.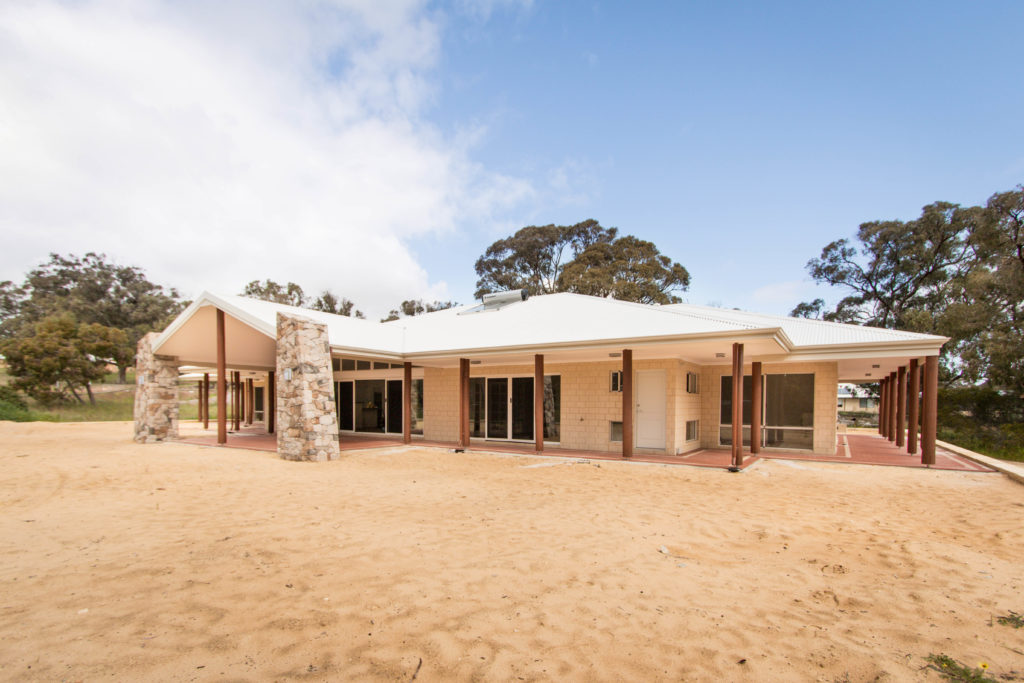 Steal the scene with feature elements
Going all out with your farmhouse style and feel doesn't need to cost a lot of time and money. You can do it without the expense of decorating the entire room. Consider choosing great feature elements that will serve as a decorative focal point of every room. Some design elements that are guaranteed to steal the scene include exposed wooden beams and recycled bricks. Not only are these on-trend, but they also add charm and character to your farmhouse design. A statement recycled brick wall can suit the rural setting and provide a stylish addition to your home.
Your house becomes a home with a fireplace
Installing a fireplace in your farmhouse adds to the warmth and charm of the home. A farmhouse design is known for having a cosy, laidback ambience, which a fireplace can bring into the home.
A fireplace can come in different styles and choices depending on your budget, size, and whether it is powered by either wood or gas. The best design advice we can offer is to choose the fireplace location in your design carefully. It will help you identify your desired type of fireplace (dual fireplace, for example) that would be best suited in that area. Start your research by looking up the different types of fireplaces and weighing their comparisons. You can go visit fireplace showrooms near you so you can see, touch, and test the fireplaces in person and talk to a staff member to help you choose. When you know the specifications required to install on the specific area in your farmhouse, you can confidently choose a fireplace and add it to your home design.
Go all out with a MasterChef kitchen
In a farmhouse design, the kitchen is most often the heart of the home, the central gathering point for family and entertaining friends.
There is enough space in a farmhouse design to make it big, so make sure to make the most out of it. Why not get generous with storage spaces and a big island bench? Adding a scullery is a great way to hide the mess and store the must-have kitchen appliances.
The Shelford Farmhouse design range
Our team at Shelford Quality Homes has years of experience in designing and building farmhouses. Experience country living within the convenience of the city with the Shelford Farmhouse design range. This range has been thoughtfully designed by our team to capture the Western Australian lifestyle and landscape, featuring expansive layouts, room options, large verandahs, high ceilings, large gourmet kitchens, among many others.
Our principle at Shelford is to design homes as if we were living in the space or imagining a family enjoying the home with their loved ones and friends. Considering budgets and lifestyles, we enjoy sitting down with our clients to find out exactly how they would live in the home and allow them to tweak, change, and adapt our farmhouse design range to suit their needs.
For more design or style inspiration for any home, visit our award-winning display homes! Do also check out our farmhouse range and see how modern features bring balance to a farmhouse design.