Your Guide to Building After Buying Land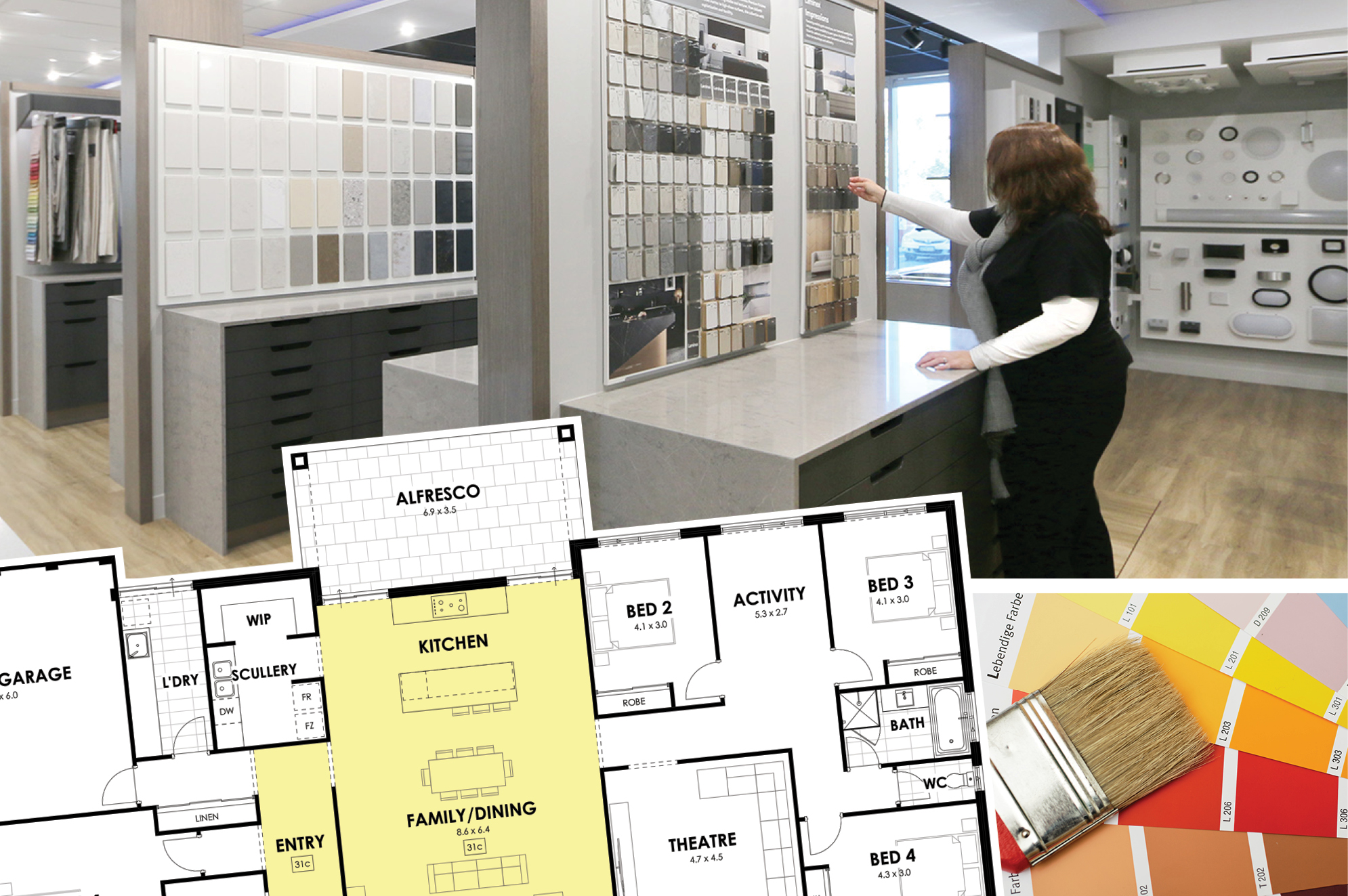 Previously in steps 1 to 3, we have talked about how to choose the perfect location and block that's right for your budget and your requirements. Now let's continue with steps 4 to 9, which details building your new home on your chosen land.
Step 4: The perfect home design for your tastes and lifestyle
Building your home is an exciting journey, but perhaps one of the most exciting parts is choosing or creating the home design. There are many different paths you may take for this process, such as providing us with your plans that you have been working on for some time, making changes to an existing Shelford Quality Homes design, or allowing us to help you design your dream home from ideas & inspirations you may have.
Whichever way you decide to go, it is important to remember that the process can be complicated at times, with so many decisions to make. But our team at Shelford Quality Homes loves to listen! Before anything is put on paper, we take the time to sit down and discuss where you want to live and how you want to live. Once everything is set, we then begin to build a profile based on your needs, wants and budget, so that you can make informed decisions.
Before we start with anything, we can also show you around our range of display homes or current homes being built, where you can explore the home layout and imagine how you can make it yours!
Step 5: Signing your Preliminary Agreement
Everything starts to finally come together and this agreement will mark the beginning of the next phase! Your Preliminary Agreement with Shelford Quality Homes includes:
The most recent sketch plan of your home
A detailed specification of the build with information on siteworks and all inclusions
A list of variations/additions made to the design of your home
We will do additional preliminary work behind the scenes to fine-tune your home design into working drawings. We will arrange for all necessary information such as: –
Site survey – Critical information detailing all the information on your land, including levels, contours, features (trees, plants, water), and power services, as well as footpath locations to ensure your plans are accurately drafted.
Engineer's site report – Involves soil testing on your block to provide us with the necessary engineering requirements to help with footing details for your home's slab.
At this stage, you will also receive your Home Owner's file, which will determine how your home will look. It also gives you an idea of the kinds of fixtures and finishes you can choose from, the colours you can choose for your home, as well as details on items requiring selection during your pre-start meeting. Some product selections can be made at our Shelford HQ Selection Studio, while others can be made by browsing our product catalogues and brochures and some will require a visit to our nominated suppliers' premises.
Step 6: Signing your HIA contract with Shelford Quality Homes
On completion of your working drawings, your HIA (Housing Industry Association) building contract will be prepared and sent out with all included documentation (Price Coverage specifications and variations) to be reviewed in the comfort of your home for signing.
Once we have received your signed contracts, our pre-start team will contact you to book a time for your pre-start meeting in our Shelford HQ Selection Studio to finalise all your selections.
Step 7: Pre-start
We try to ensure your pre-start is streamlined and as stress-free as possible. It's all about you and your home and the Shelford HQ Selection Studio will be booked exclusively for you so that you can take your time choosing among the stylish fixtures and finishes all in one convenient area. Our prestart consultant/interior designers are there to work with you and guide you through the process.
Step 8: Finalisations before commencing building
Before we commence construction of your new home, the following checks need to be complete:
Pre-start complete and variations signed – Once you've made your selections, we itemise any amendments and you will need to confirm and sign a variation document. We then work on the final working drawings of your home and include the specifications and details chosen at your pre-start meeting. These include details such as cabinetry and any electrical additions.
Signed building contract and unconditional finance approval – We work with you in lodging your building contracts and pre-start variations with your bank or broker to arrange unconditional finance approval for your home loan.
Land settlement – You will need to ensure that land settlement has been organised with your settlement agent. This formal approval is needed to move forward.
Developer approval – If required, we will send your plans off for developer approval as part of your sale of land contract.
Building permit approved by the local council – Your finalised plans are submitted for Certificate of Design Compliance (CDC) where they are assessed for compliance with the National Construction Code and Australian Standard and then lodged with your local government to be granted a building permit.
To construction – On receipt of your building permit, your home will progress through to our construction team and you will be advised of your dedicated Site Supervisor together with the updated progress of your home to be constructed. Exciting times ahead.
Step 9: Construction of your new home
What a great milestone! All the crucial decision-making was all worth it as we come to see its fruition. Your home will now come together right in front of your eyes! At this stage, we will invite you to meet your Building Supervisor and our Construction Manager who will answer any questions you may have throughout the construction process.
Achieve your dream home with Shelford
As promised, Shelford Quality Homes will be with you every step of the way – from our first meeting up to the entire home building process – to make sure everything is streamlined and going smoothly.
For more helpful advice on buying land and building your home, we are here to help you. Contact us today or stay up to date by subscribing to our E-News!