Laundry Room Ideas To Make Your Laundry Room Functional.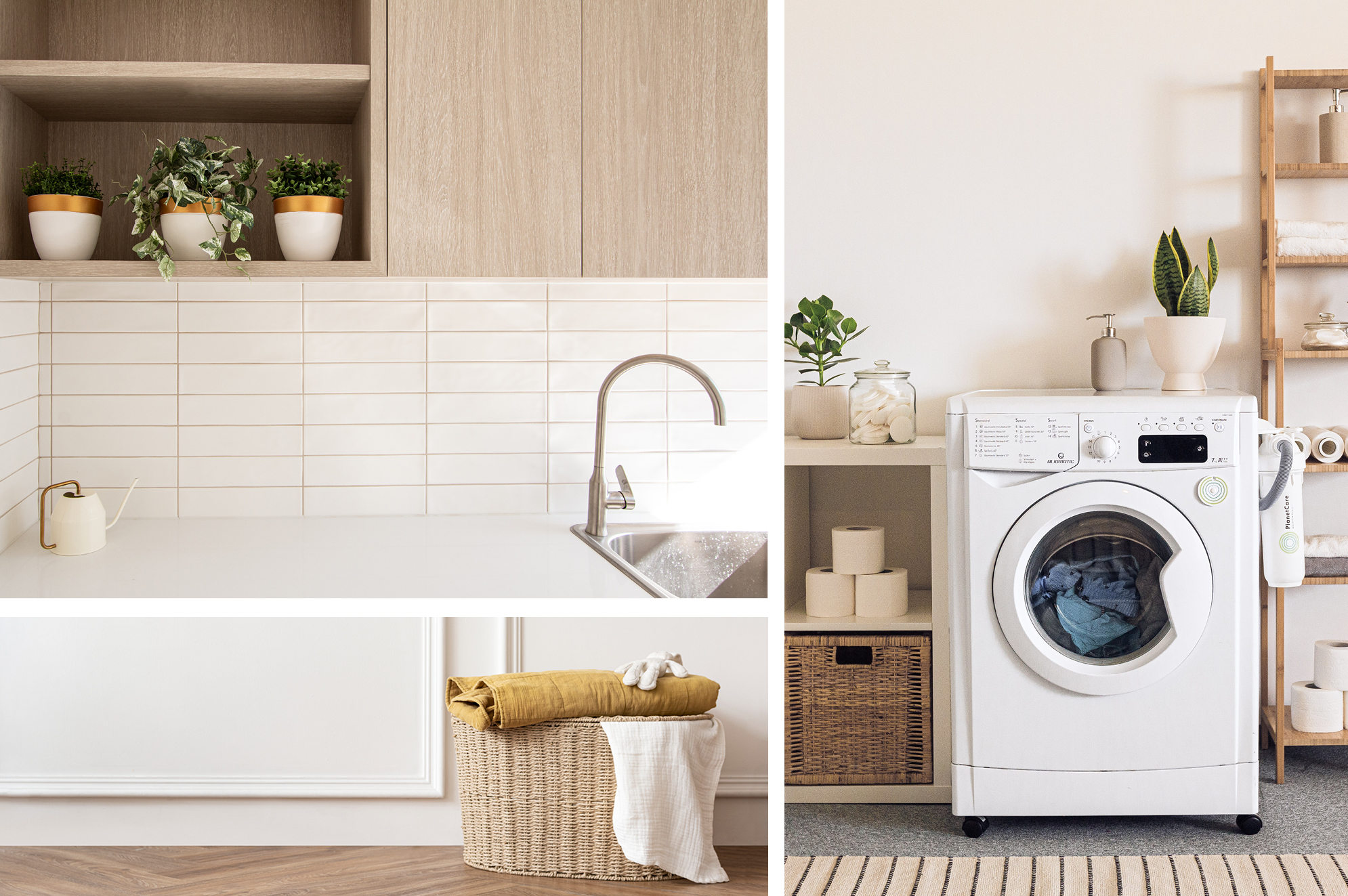 Are you looking for laundry room ideas that are functional and stylish? Well we have you covered because we believe a functional utility rooms, such as the laundry room, should not be just another forgotten room at the back of the house, where most of the dirty work happens. We consider the laundry room as one of the most hardworking rooms in your home, this space is worth styling to help you enjoy doing even the most boring daily chores. It may not be a glamorous or exciting feature of your home, but a well-designed and stylish laundry room is essential, and it will bring a smile to your face for its functionality and versatility. Even the smallest of spaces can be styled to make the surroundings sophisticated.
What are the must-haves for a functional and stylish laundry room? Here are our top tips on creating the most practical and stylish laundry room in your home.
1. Put some thought and love into your laundry space
Knowing how you plan to use your laundry will help you decide what to include. A laundry room in any family home is a high-traffic, high-function space of your home. The space needs to work well for you. Consider all aspects of your laundry needs, such as washing and drying, and hanging space for clothes, for a washing basket, linen storage, ironing, ironing board, and broom cupboard.
Make a list of what you need and what needs to be included in your laundry room. This way, you can easily decide where you want to put essential items and if you need a bigger space in your home design for your ideal laundry room. Well-planned storage makes for good organisation. It will help you find things quickly and easily and help you determine which items you need to be easily accessible.
 2. Strategically position your Laundry room in your home
Even for your laundry room, its location in your home design is essential. A well-positioned laundry room in your home design is equally important in the earlier stages of designing. Many of our clients at Shelford like their laundry room positioned close to the kitchen or scullery area or as they come into the house from the garage.
Practicality is the key to family living. When you and your family get home from the beach or the kids' footy game, an accessible laundry room without going through the main house allows you to drop everything dirty in the laundry room without tracking it through the house. Great examples are seen in our Epicurean or Miami layout, even our popular rural design, the Eucalyptus.
3. Storage is key
A well-designed and functional laundry room needs plenty of storage and working bench space. Without these two very important elements, the laundry room becomes hard to work in and will be cluttered. Incorporate a built-in laundry basket to hide the dirty washing. A mixture of enclosed and open overhead cabinetry will also help to add style and personality to the space. Enough storage space will keep everything organised, tidy, and in its proper place.
4. Add style and personality
A beautiful, styled laundry room will motivate you to enjoy the space even if you are soaking your kid's muddy sports jersey. At least the surrounding is pleasing and will help lighten the mood. Why not add some great coloured tapware like matte black to make a design statement? You can also consider adding a vege mixer spray tap as an option. It not only looks good, but you can rinse clothes before adding them to the wash.
With your open shelves and bench space, you can display your washing powders and detergents in glass canisters. You can even add some indoor plants to freshen the interior. Many plants love the humid environment like the laundry room, so these plants will thrive in this space without requiring much maintenance.
Make washing clothes fun in your well-designed Laundry room
Laundry room design and styles have evolved. It usually comes down to who lives in the home and how big the area is. Here's our greatest tip: make it work for you and have fun in the space where you will spend a lot of time in.
For more laundry room inspiration and other design ideas, visit one of our display homes today!