Looking into Home Design Trends for 2020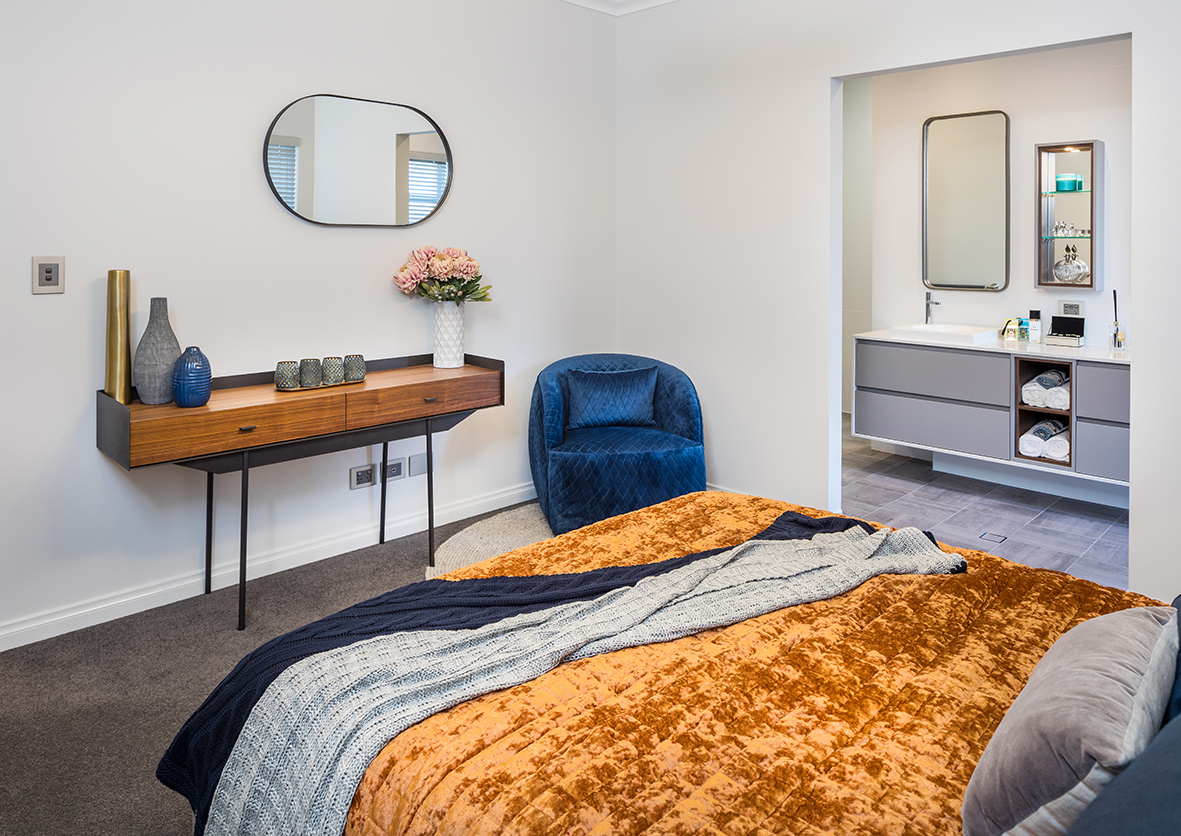 What 2019 design trends have you applied to your home? Are you ready for new home design trends this coming year? Shelford Quality Homes interior and architecture designer Rui Rosa shares his insights into interior design trends for 2020 and how you can apply it in your home.
Colour
In 2020, it's all about keeping it natural. Opt for a colour palette that includes warm neutrals and muted pastels with subtle metallic accents. Dusty pink, terracotta, and clay-based neutrals like creams and soft grey undertones, as well as bolder colours like forest green and navy blue, are the colours to keep an eye on in 2020. This colour palette brings about a sense of calmness, complemented with striking highlight colours that empower, uplift, and even offer a sense of luxury. Your home should be a place for you to relax and reset, and a contrasting tonal palette with the aforementioned colours does the job.
Textiles
In keeping with the nature theme, textile trends in 2020 will be shaped by nature with overstated layering, linens, and fibrous fabrics, such as chunky knits. You can add throw rugs on the bed or couch, as well as linen cushions for a soft touch. Velvets are also making a comeback, with rich tones of navy blue, dusty pink, and forest green for a sense of luxury.
Kitchen 
The usual white kitchen gets some drama and luxury, with bolder, darker tones, like deep blues, greens, dark greys, and shades of matte black. Timber finishes are also increasing in popularity, so in 2020, we see rich and raw palettes of greens, browns, and dark woodgrains inspired by nature becoming the trend.
If you don't prefer rich, dark colours for your kitchen, there is still an uptake of raw materials and texture. To keep on trend, you can pair earthy tones with a kitchen top that has a concrete look or a stone marble finish with a touch of brown, deep greens, or deep purple undertones.
Seamless kitchen designs with more bench space will be the trend. Kitchen appliances will be more integrated, including cooktops, microwave ovens in the cabinetry, and range hoods out of sight. We also expect fully integrated pantries or scullery areas to continue to be popular in 2020.
Flooring and wall tiles
Stressed timber, concrete, and earthy tones in tiles and marble will become the trend. Terrazzo also makes a comeback, which was popular in many retro homes in the '70s. Like polished concrete flooring terrazzo traditionally consists of chips of rocks, shells, marble, quartz, and glass and boded into cement. For an updated look, we can get the look of terrazzo through polished concrete and tiles.
Greenery
Getting in touch with nature wouldn't be complete without indoor and outdoor greenery in the form of leafy plants, palm leaf patterns as seen in the '70s wallpapers and tiles, as well as dried flower arrangements. We also see the return of vintage wall hangings and handcrafted vases or ornaments.
Furniture
Along with natural tones and accents, 2020 also sees the '70s vibe and eclectic bohemian details coming through. Textured fabric like velvet mixed with tribal and geometric patterns will gain popularity. Cane furniture also comes through, with smooth curves and comfort playing a big part.
Bathroom
Give your ordinary white bathrooms some personality by giving it a more relaxed, natural feel. Pastel tones and organic, natural-looking tiles and basins will be the thing in 2020. Uniform tiles will also be replaced by imperfect glazed mosaic tiles and vertical patterns.
Coloured tapware is taking centre stage in the bathroom and is becoming a bold, stylish statement in this area. You can now choose from chrome, gold, matte black, gunmetal grey, and brushed nickel. The same goes for basins, which now come in many shapes, sizes, and colours. In 2020, this will also become a main feature in the bathroom, with a splash of colour. We also see basins sitting on top rather than being integrated with the bathroom benchtop.
What are you looking forward to in 2020 home designs?
While these are merely suggestions, these trends are not only about what looks good, they also suggest how you can make your house feel more like home. Try them out to see what works for you and what can improve your space and lifestyle.
For more home interior design trends, view our stunning display home gallery or visit one of our display homes. We have more display homes set to open in 2020, so stay up-to-date by subscribing to our e-news.