Tips for Choosing a Kitchen Splashback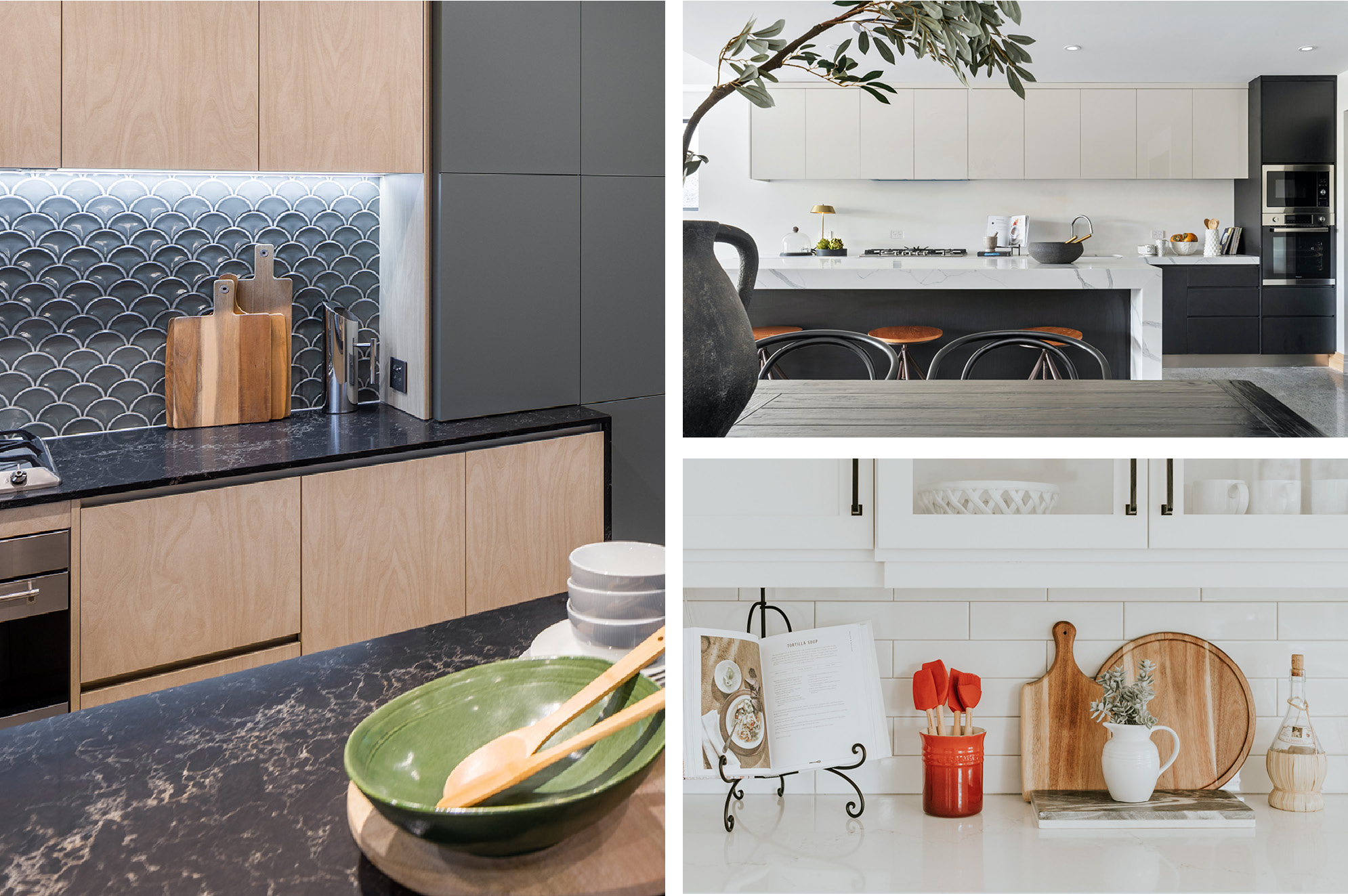 Arguably, the kitchen is the heart of any home, more so a great-looking kitchen where not only the family can spend time cooking and eating, but also where your guests can gather and marvel at the interior.
A beautiful kitchen has doors, drawers, benchtops, but it is the kitchen splashback that ties everything together. And more than ever, kitchen splashbacks are making a bigger and bolder style statement. From unique textured material, geometric patterns, mirror, steel, and more, the splashback contributes to the overall look and feel of a kitchen and protects a kitchen wall from heat, water, food splatters, and grease.
Sometimes, the last thing you consider when designing your kitchen is a splashback. But getting it right is essential for its practicality and making a style statement.
Here are some of our expert tips and advice for choosing the right kitchen splashback that is functional and sophisticated.
Choose your colour palette
Can't decide the colours for your kitchen? Maintain cohesiveness with the rest of the house by choosing a colour consistent in all of the rooms, or you could also make the kitchen your starting point. Narrow down your choice by selecting your benchtop colour first. From there, you can decide if you want your benchtop to be the feature in your kitchen or you want your splashback to make the style statement.
If you choose a bold, rich benchtop colour, we suggest choosing a minimal splashback colour so it won't draw attention away from the benchtop. If the splashback is to become the feature statement, then select a more neutral colour for the benchtop. Choose only one focal point for your kitchen, and the rest of the area should harmonise with it and become supporting accents to the main feature.
Don't forget about cleaning
Besides contributing to the overall look and feel of your kitchen, splashbacks have a significant role to play. They protect our walls and cabinetry from moisture, heat, oils, and cooking residue. This means the mess will happen, particularly behind your stovetop. Regardless of your choice of splashback material, don't forget to consider the most important question: how easy is it to clean? Will it show the oils and cooking residue? A new splashback may look amazing at first, but you also have to think about the practicality.
Tiled Kitchen Splashbacks
The possibilities are endless with tiled splashbacks, and they can be cost-effective too when compared with other splashback alternatives. Of course, it depends on the size of the tile, the type, and the laying costs. To make the most out of it, make sure to choose the tiles that you love and that they must work with the style of your home you want to create.
For example, for a traditional or Hamptons style, subway tiles are the best choice. If you want to make a style statement using tiles, you can do so by looking at different shapes, sizes, colours, patterns, grout colours – the possibilities are endless and fun!
Remember to consider how easy or hard it will be to clean the grout from oils and cooking residue. If it will be too hard, then larger tiles or other options might be better
Glass or tinted mirrors
Glass splashbacks have a contemporary modern look and have evolved from a plain or tinted mirror splashback to now printed with images, graphics, or logos onto glass. You can select one of the standard images, like an Australian outback, or you can pick or design your own. Glass splashbacks are versatile and can create a truly unique look.
As for cleaning glass splashbacks, remember that water and grease splashes show on dark surfaces. Although stunning, take note that dark grey or black glass will be high maintenance!
How about a brick kitchen splashback?
Bricks are becoming a new stylish trend and can be used as feature walls and splashbacks, replacing tiles and glass to add interest, texture, and warmth to your kitchen. A brick splashback is a nice look for industrial-style homes as well as contemporary modern homes with sleek glazed or unglazed bricks. The durability and maintenance of brick splashbacks also make it a great option. However, the only potential setback is that this is one of the more expensive options.
Continue your stone top to your splashback
Caesarstone is a great option for a stone splashback. Though more expensive than tiles, it gives your kitchen an elegant look and feel. We love the look of how stone, such as Caesarstone veining and marble effects, looks as a splashback.
When choosing to have stone as your kitchen splashback, make sure to decide early on where the stone starts and ends, the length of the stone, and if there will be a cut in the stone. Also, take note that stone tends to have natural imperfections, which adds to its beauty, so you need to remember that it won't be smooth or flawless like glass.
Let the outside in with a window splashback
Let natural light come through with a window splashback. With this option, you might need to consider that it is not an average glass like other typical windows because of the heat of your hot plate. It will also inevitably get splatters and marks, so you need to reconsider this choice if you are not up for window cleaning. Another thing to think about is that a window splashback often still has a remaining small area that needs either a tile or stone splashback.
What's old is new with pressed metal
Pressed metal provides a great look when you want to style your home in a more modern heritage way. It even suits industrial, federation, and farm-style homes. It's an alternative style of splashback that you do not see used often, but we think it's perfect for its durability, versatility, and cost and comes in different patterns and colours that go well with so many styles.
What's your splashback choice?
If you need splashback inspiration and ideas for your home to help you decide, start with our display homes. You can also visit our Instagram and Facebook for more photos and tips.
For more inspiration, design tips, and advice, sign up to our e-news to receive the latest from us directly to your inbox.