Liveable Housing Project: Introducing a Wheelchair-accessible Home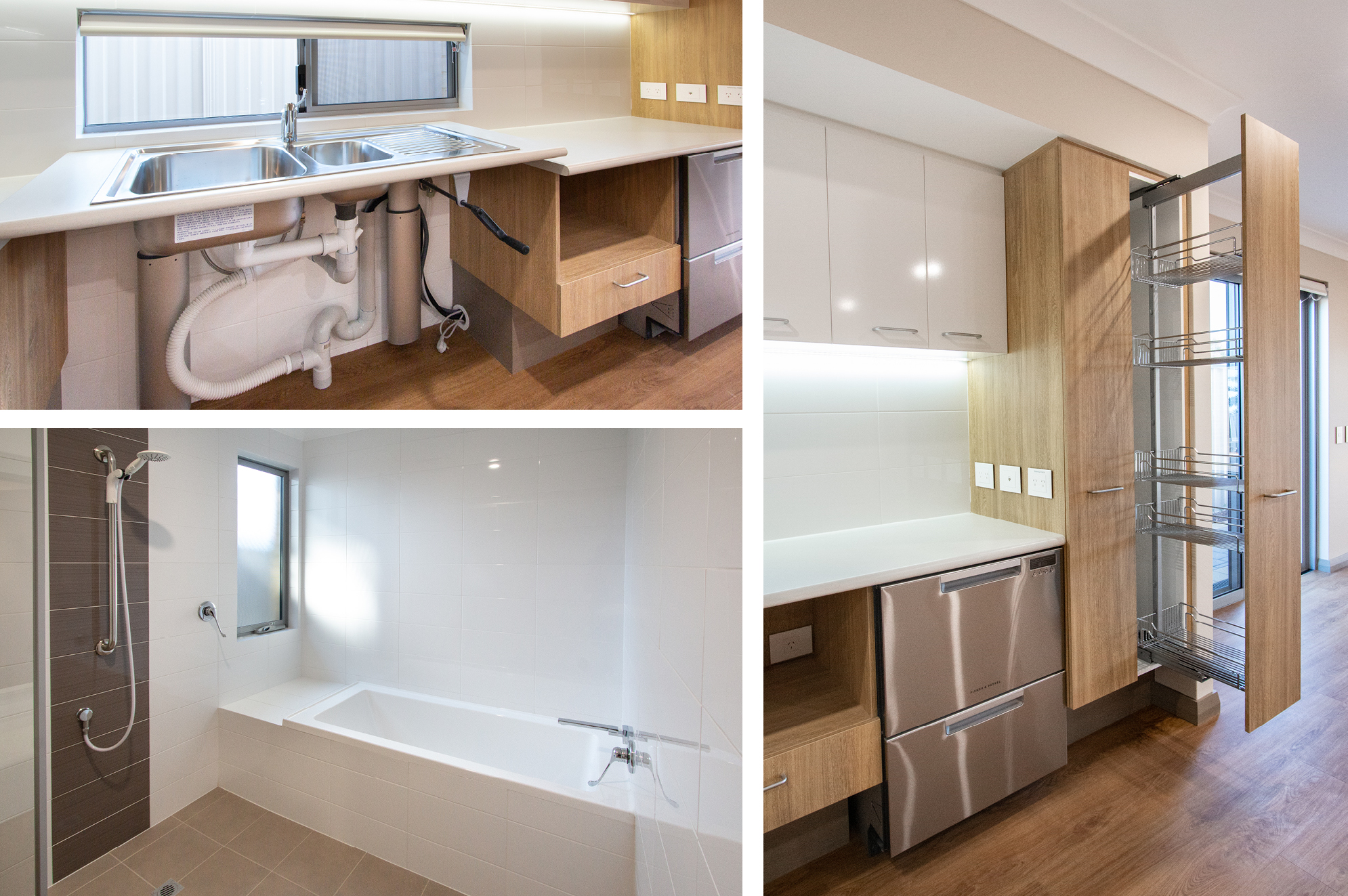 The Shelford team was recently approached for a unique, inspiring project to build a wheelchair-accessible home suited for all abilities for Liveable Housing and Specialist Disability Accommodation.
We were so excited to take on this project to work with our clients in creating a family home that accommodates their changing needs. The main features built in this wheelchair-accessible home are unique, with innovative design and features that deliver so much more. We've done research intensively to ensure the house is liveable for every person at any stage of their life regardless of changing health conditions.
The wheelchair-accessible home design
This purpose-built easy-care property is a contemporary four-bedroom, two-bathroom front strata family home located on a quiet street in Perth. We made this wheelchair-accessible home design for people who can't live in mainstream housing due to their extreme functional impairment or very high support needs. With this in mind, we made sure to include the following crucial characteristics and features:
● Enables easy access
● Enables effortless and cost-effective adaptation
● Easy to move in and around
● Designed to anticipate and respond to the changing needs of the home occupants
Ultimately, we designed and built this project to incorporate a high level of physical access provision for people with significant physical impairment. We also made sure that the home design enables light to bounce through the entire house effectively with window placements at perfect heights and glass doors that are easily accessible. Every aspect of the home has been well thought out to offer comfort, functionality, and space.
External features
At first look, it may seem like any other standard contemporary home with its modern appeal. The house sits strikingly in the quiet Perth street with its dual skillion roof and a mix of modern tones and materials like the featured Austral Brick 1c Western Earth Hannan and elements of grey from the weatherboard cladding and colorbond fascia.
With an open and wide level entrance to the home, you will notice a safe and continuous step-free path from the street entrance. The carport area leads straight to the front door, perfect for wheelchair access.
Internal features
All internal doors and wide corridors are consistent with a step-free design with anti-slip coverings to enable easy access and mobility in and around the home. The residents of this home will be able to easily and independently open and close doors with manual and automated doors.
The home features a smart home system, which can be operated from a tablet or through voice commands for improved liveability and to provide enhanced support to people requiring high physical support. Operational devices throughout the home are at dedicated operational height from finished floor levels and are easy to reach for all members of the household.
All window sills are installed at a height that enables the occupants to view the outdoor space from either a seated or standing position. All window furnishings throughout the home are operated with a standard wall switch or via the home automation system.
Bedroom features
Bedroom 1 is placed near the home's entrance to cater for high physical support, with a custom hoist and GPOs, switches, and a custom-designed ensuite. Each bedroom has its ceiling cassette air conditioner unit that can be operated via the dedicated Smart Home App.
Bathroom features
Bedroom 1 with ensuite (Bathroom 1) is easily accessible with custom hoist and GPOs, and switches and operational devices placed at a dedicated operational height from finished floor levels. Bathroom 2 and a separate WC are both designed to cater to all ambulant requirements.
Both bathrooms contain an open hobless shower to allow dual accessibility for the disabled and the carer when required, a reinforced wall around the toilet, and a shower and bath that support the safe installation of grab rails. The floors are installed with specific no-slip tiles with gradient levels between 1:60 to 1:80. The basins and adjacent top are manual height adjustable for specialist disability, with all electrical controls at a controllable height from the finished floor.
Kitchen features
The heart of the home, the open-plan kitchen flows easily into the dining and lounge area, forming a large freeform space with great natural light and high ceilings. The kitchen in this wheelchair-accessible home is designed and created to support ease of movement between fixed benches, with 1500mm clearance in front of fixed benches and appliances.
Unique features include the manually adjustable up and down kitchen island bench on wheels and manually adjustable sink benches—both of which are easily adapted for the height requirements of the person, whether seated or standing.
Visual appeal
The home visually captures contemporary elegance wonderfully with a mix of simple strong forms and a contemporary modern palette. From the outside, you can see bold to light tones and textures from face brick, vertical weatherboards, and windows. Inside, the home also offers a contemporary modern blend and a homely warmth seen on the light classic oak vinyl floors and the tiles, cabinets, the Laminex white gloss overhead cupboards, Laminex bamboo striped bench fronts and pantry door, and Polytec Snow Fabrini benchtops.
Our goal was to exude a welcoming and relaxed feeling created by the visual elements of the home. It has a sense of warmth and is what a family home should be. The clever use of on-trend colours, tones, and textures lend itself to be modern and visually appealing. New and on-trend light fittings, colour palette, cabinetry, fixtures, and finishes make this home more a family home and not a sterile special needs house!
Innovation
Modern smart home technology plays a big part in the innovation of this home to help facilitate people of all ages and abilities, both abled and disabled. The Arteor with Netatmo smart home technology comes with an app for your device and a voice control capability. It allows you to view the overall energy efficiency and consumption of the home. This app shows the homeowner what uses the most energy, puts a dollar value on it, and assists in reducing the home's operating costs. The home automation system also controls the blinds, doors, lighting, and certain GPOs in the house from your device or via voice control capability.
The home utilities are powered by Western Power, backed with a dedicated solar power system supported with a Tesla 13.5kw battery. The solar power system and battery continuously power the dedicated essential items throughout the home. In case of a power outage, the house is prepared to use these back-ups so that a generator can be connected within two hours to take over and continue to support the dedicated essential items.
Environmental sustainability
The home incorporates the principles of environmentally sustainable design with a strong emphasis on passive thermal principles. The home is designed with clever use of cladding and masonry materials backed with R4.0 Batt ceiling insulation and R1.3 cavity insulation throughout. The house's orientation sees the living room and alfresco facing north, where a deciduous tree stands within the rear garden bed to shade the home from northerly summer suns.
The Arteor with Netatmo smart home system allows the user to control each downlight installed in the home to be slightly dimmed to minimize the cost from a light source. The same can be done to any device and appliance in the house connected to a smart outlet. Not only does it help reduce energy consumption, but it also helps you make sure you don't leave any appliance running and can turn it off even if you're not at home.
Essential items, such as dedicated downlights, GPOs that run the fridge, operate the security system, and control automated doors, and dedicated A/C are on constant solar power use and battery backup.
Incorporating these elements to achieve comfort through passive cooling demonstrates our capabilities and construction abilities in terms of flexibility and promoting green living.
Build a smart, accessible home with Shelford
We sure do look forward to taking part in more inspiring projects like this. Our team at Shelford is dedicated to helping design and build homes to meet the changing needs of occupants across their lifetimes. Let us help you look at home designs in a different, innovative way. Speak to us today!