Discover Exclusive Luxury with Shelford's Newest Brand: Shelford Exclusive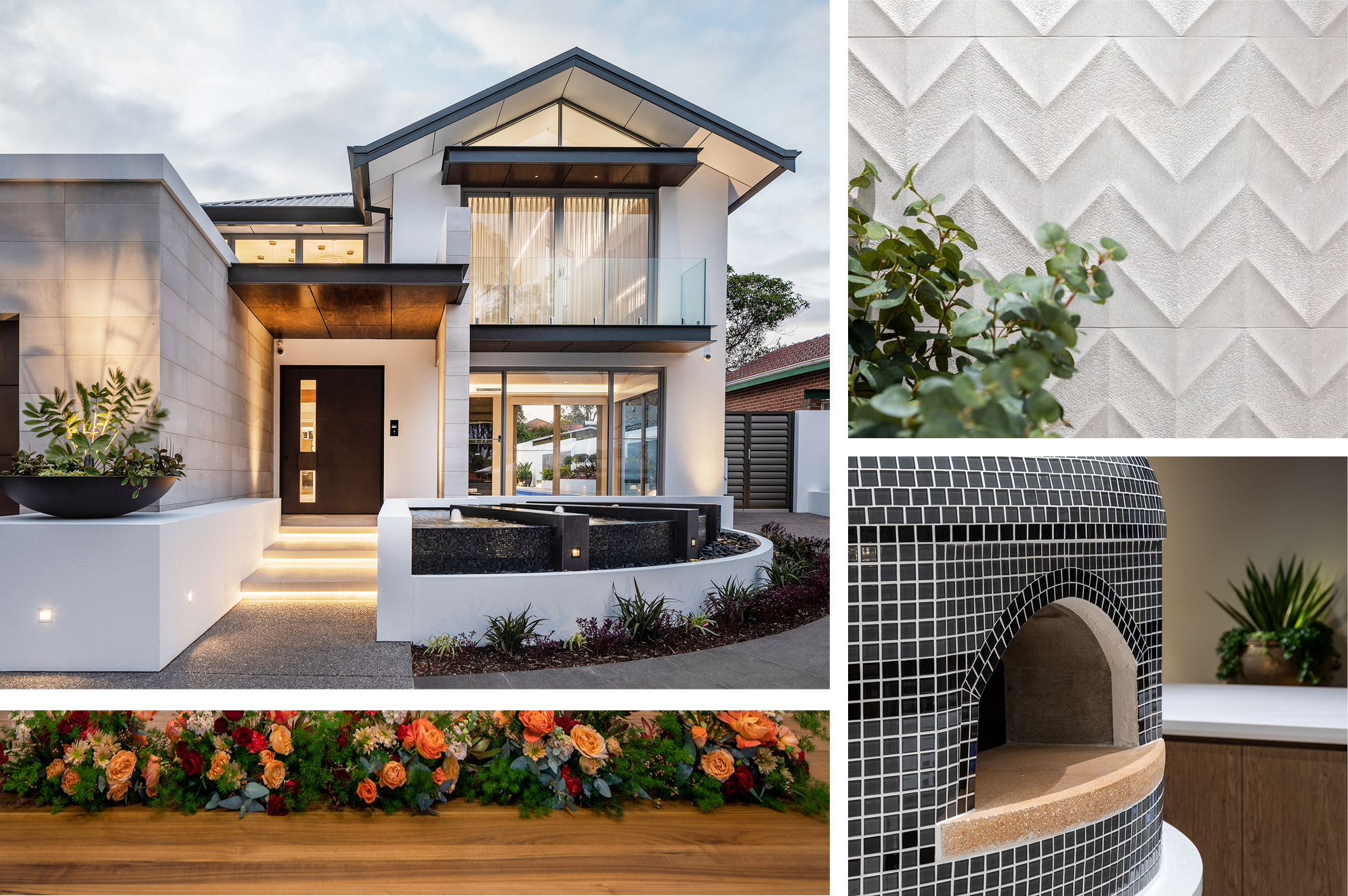 A true testament to our commitment to pushing boundaries, we introduce our newest luxury brand of highly customised homes: Shelford Exclusive, where master craftsmanship and bold innovation come together.
Shelford Quality Homes saw a gap in the luxury home market where clients are expecting more, especially in building a highly customised, bespoke home. With Shelford Exclusive, we don't do the same thing twice. We understand each of our clients' unique conditions and requirements and offer them a bespoke home building journey of the highest standards.
The first of the series is one of the finest luxury homes along the sought after suburb of Bicton. Designed by Rui Rosa, Shelford Group's Senior Interior and Architecture Designer, this stunning four-bedroom and four-bathroom home redefines luxury living.
Igniting the senses
The use of visual and tactile textures has influenced the feelings of warmth, luxury, and glamour that the house exudes. Visual textures are those that immediately appeal to your visual senses at first glance, such as the cabinetry selections and the gloss paint on the doors. Tactile textures ignite your sense of touch once you feel them, such as the beautiful tiles used on the ensuite wall. All these enforce our design style of the home with a mix of smooth and glossy textures for a modern, contemporary, and glamorous feel with a hint of natural textures. We also made sure that there's still the natural inviting element to the home as carried out by the matt textured feature tiles on the stair wall and the local Donnybrook sandstone on the fireplace.
The most innovative and smartest home in Perth
So much innovation and thought were poured into building the smartest home in Perth. A high level of attention to detail and workmanship was put into the project, carefully planning every process, materials, and products used, down to the screws.
It truly is a smart home like no other, including unique, never seen before smart home features and technology,
● Installed with Savant home automation touchpads seamlessly integrated into masonry walls using a bespoke rebated boxing system. The home automation system allows full customisation of every electrical item in the home, both remotely and from within the house at any location.
● Hidden track systems are used to conceal the dumbwaiter and kitchen utilities, keeping the space clutter-free and visually appealing.
● Use of combined carpet and timber treads to suit the functionality of the spaces.
● Unique balustrade design and detailing, combining timber, stainless steel, glass, and resin sheeting.
● Bespoke front door with custom bronze metallic paint finish, magnetic door closer, and European designed and manufactured pivoting system.
● Custom side gates with new-age soft closing hinge integrated with home automation.
● Functional and distinctively designed exterior JEE-O poolside shower, a first in Western Australia.
● Custom aluminum structural slimline bridge to conceal pool blanket.
● Automatic operable roof to the outdoor living area, where roof cover is available when needed and allows natural light and ventilation to enter easily when fully opened up.
We work closely with our clients to achieve their requirements. At the same time, we do things differently by sourcing new materials and innovations nationally and internationally – those that we have never seen in Perth.
A work of art built with passion and precision
This Shelford Exclusive home is not only a smart home but also a work of art. The key to evoking a welcoming and luxurious feel is creating a visual harmony among the spaces without sacrificing each room's identity. The cohesiveness of the home brings a sense of peace, which establishes the ambience of the entire house.
We worked with our clients to establish a consistent colour palette that connects the spaces of the home. We chose neutral and three to five accent colours that complement each other. We decided on a single colour that served as the main colour for each room but applied differently every time, as seen through the paint colour, cabinetry, fabrics, and accessories. We kept all the structural elements, including the interior trims, moldings, ceilings, doors, etc., the same to maintain cohesiveness.
We also used a consistent theme for the flooring, even when we mixed tiles with wood and carpet, by sticking to the same tones.
The consistent style creates continuity between each space. We achieved the style our clients were looking for – a relaxed contemporary style with sophisticated glamour. Defining a style unique to our clients created continuity and a beautiful ambience.
Defining the details
Shelford Exclusive defines what exclusive luxury meant. Building the bespoke home was a collaborative approach from our first meeting with the clients and beyond, bringing their bespoke design to life and combining functionality, aesthetics, and lifestyle.
Every little detail up to every nook and cranny of the home has been defined and highly customised.
Kitchen – The kitchen replicates the movement and functionality of a designer kitchen with three parts: a Providore-style pantry, a fully functional working kitchen with integrated high-spec appliances, and an interconnecting wing with everyday utility compartments that seamlessly wrap around adjacent walls. Cabinetry is maximised to create a harmonious and functional arrangement, and the dumbwaiter door, air-conditioning, and utilities are effectively concealed.
Bathroom – The use of multiple wall and floor finishes amalgamate seamlessly to create a harmonious, subtle ambience, while the new age back-to-wall titanium bath with integrated water filler creates an inviting sanctuary. A specially designed water-efficient flush mount shower head exudes that luxury hotel aura. State of the art concealed lighting has been programmed for night mode, making movement throughout the home a breeze, with a dimmable energy-efficient low voltage censored lighting system. Bespoke beveled edge mirrors give the space an element of detailed sophistication.
Ensuite/powder room – The ensuite has been fitted with a bespoke, custom order 26 jet Whirlpool with Caesarstone surround. A magnified mirror has also been specially located to ensure skincare and make-up application is a breeze. The hi-lite windows allow for subtle day and night lighting while saving power and increasing natural light. A Velux sky window into the powder room allows comfortable and functional airflow.
Open plan living and alfresco area – This spacious area is the heart of the home. From a customised bar area and mix-up cocktails to cooking up a storm on their very own pizza oven and playing bocce or jumping in the pool/spa, this is an entertainer's dream. The seamless indoor/outdoor integration from the living area to the alfresco with the wall of stacking glass doors opens to offer an amazing space to have family and friends over. During winter, the automated Luxaflex blinds can be kept down with the 3x automated Thermofilm Heatstrips activated to warm the area. In the summer, the blinds can be kept up with the skylights open or closed to allow full air movement. The fully automated Vergola can also be opened to allow extra light and a gentle breeze.
Start your bespoke luxury home journey through Shelford Exclusive
Visit this luxurious Bicton residence and see and experience the Shelford Exclusive standard for yourself! This bespoke home building journey is highly specific, where we work with your chosen architect or in collaboration with our team of interior designers and landscape artists. Combining our passion for design, innovation, and craftsmanship, Shelford Exclusive delivers a one-of-a-kind, high-end experience.
To book an appointment, contact Martyn Ferris on 0438 389 530 or visit our website to learn more.